Plenary Session
Meeting Theme — Challenge Accepted!  Confront Obstacles, Create Opportunities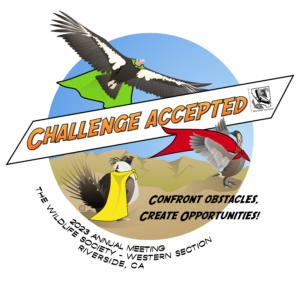 Thursday, February 9, 2023 — 1:30pm to 3:00pm
Livestreamed and Recorded
Chair – Randi McCormick,

TWS-WS President-Elect/McCormick Biological
As professionals, we wear many hats and face constant change. In addition to the obvious challenges that confront wildlife research, conservation, and management efforts, we face obstacles in growing our reach and guiding the next generation of professionals: challenges such as competing interests, different backgrounds, and points of view. Throughout my career, I've been impressed that wildlife professionals are people of action who care deeply about their work. I challenge us to work together to directly address obstacles and actively create opportunities for wildlife professionals, collaborators, stakeholders, and those future wildlife biologists who are out there! For the 2023 Annual Meeting, I would like us each to throw down the figurative gauntlet, be honest with ourselves and each other, and take critical steps towards meeting challenges in wildlife science, conservation, and management head on.  — Randi McCormick. TWS-WS President-Elect and Plenary Chair

SPEAKERS:

Dr. Lisa Shipley, Washington State University – Saving a tiny rabbit in the declining sagebrush sea: conservation of endangered Columbia Basin pygmy rabbit

Dr. Cali Crampton, Kauai Forest Bird Recovery Project – Challenge Accepted: Ensuring the Survival of Kaua'i's Native Forest Birds

Dr. Deana Clifford, CA Dept of Fish and Wildlife and UC Davis – Revolutionizing the Mojave – Amargosa Vole Recovery
Speakers will include:
Dr. Lisa Shipley is a professor in the School of the Environment at Washington State University where she has taught for 26 years. She has supervised 26 MS students, 8 Ph.D. students, 5 postdocs, and mentored 96 undergraduate research, internships, or special projects. Her research focuses on nutritional and behavioral ecology and habitat selection of wild herbivores using a combination of field and captive animal experiments. She teaches undergraduate courses in wildlife ecology and management and a graduate course in foraging ecology of herbivores.  Dr. Shipley conducted field and captive research with pygmy rabbits for 20 years from 1998 through 2018, which resulted in 32 journal articles. She led the captive breeding program for pygmy rabbits at Washington State University from 2002 – 2011. She has been a member of the Columbia Basin Pygmy Rabbit recovery team and science team. Link to article – Can Scientists Save the World's Tiniest Rabbit?

Dr. Lisa "Cali" Crampton, The Kaua'i Forest Bird Recovery Project, obtained her Ph.D. in Ecology, Evolution and Conservation Biology from the University of Nevada at Reno in December 2004. Cali has extensive experience coordinating the design, conduct, and delivery of large research and monitoring projects with teams of diverse stakeholders.   For her doctoral research, she examined the landscape ecology and conservation of Phainopeplas, threatened passerines in southern Nevada, for the regional Habitat Conservation Plan (HCP).  As part of her post-doctoral work, she led a team of other scientists, NGOs, and government managers in designing the HCP's adaptive management plan for conserving and restoring threatened desert woodlands on which Phainopeplas and other sensitive species in Nevada depend.  In addition to her familiarity with avian field research techniques, Cali is experienced in the use of multivariate statistical and spatial analysis tools to evaluate the effects of environmental variables on animal distribution, abundance, and fecundity. For example, while working at the USGS Kilauea Field Station on Hawai'i Island, she analyzed field data on the population and behavioral ecology of the endangered Laysan teal to improve monitoring and management strategies implemented by the US Fish and Wildlife Service.  Since coming to KFBRP as the Project Leader in April 2010, she has overseen adaptive management programs, such as experimental rodent control to benefit nesting forest birds, and direct triage projects for endangered species, such as collection of eggs and adult birds to found conservation breeding programs. She is also heavily involved in research on invasive mosquito abundance and distribution to inform mosquito control that will ultimately reduce deadly avian diseases that are devastating Hawaiian honeycreeper populations.
Dr. Deana Clifford, CA Dept of Fish and Wildlife and UC Davis — Deana received her Bachelor's in Wildlife Conservation Biology
(1995), Doctor of Veterinary Medicine (1999), Masters in Preventive Veterinary Medicine (2001) and PhD (2006) in Epidemiology from the University of California, Davis. Her dissertation work focused on infectious disease and reproduction threats to endangered island foxes on California's Channel Islands. Deana has worked on a variety of wildlife and ecosystem health projects, both nationally and internationally. Prior to joining CDFW in 2009 she worked for the UC Davis Karen C. Drayer Wildlife Health Center serving as the first coordinator for the Health for Animals and Livelihood Improvement Project, a multi-institutional One Health project studying the impacts of bovine tuberculosis and water scarcity on wildlife, livestock and people in Tanzania. She is currently a senior wildlife veterinarian at the Department's Wildlife Investigations Lab focused on Nongame, Threatened and Endangered Species, and an Assistant Clinical Professor at UC Davis. Her efforts at CDFW focus on characterizing the distribution of emerging diseases in nongame species (Snake Fungal Disease, Rabbit Hemorrhagic Disease, White-nose Syndrome), carnivore health, and utilizing wildlife rehabilitation centers for disease surveillance. She is the Department's lead for a collaborative multi-partner effort to recover the Mojave Desert's critically endangered Amargosa vole, and a member of IUCN Canid Specialist Working group and California conservation working groups for fishers, Sierra Nevada red foxes, island foxes and riparian brush rabbits. Her interests are wildlife disease risk assessment and surveillance, mesocarnivore diseases, endangered species recovery, and health at the interface of wildlife, domestic animals, and people. Link to article – Endangered Amargosa Voles Begin to Repopulate Desert Habitat
Members Town Hall & Western Section Awards Ceremony
Thursday, February 9, 2023 — 3:00 to 5:00pm (Following the Plenary Session)
Celebratory food & drink will be served
Livestreamed and Recorded
Join Western Section friends and members at our annual town hall meeting.  Learn what the Section is all about, hear from officers and Chapters about their recent activities, review and ask questions about our financial statements, eat snacks and celebrate a great past year.   At this meeting, we will celebrate and recognize individuals, groups, and chapters for their achievements and accomplishments with our Western Section Awards.  Please join us.  A weblink for this meeting will be emailed to all members so that members not attending the conference can also participate.
Members Town Hall Agenda
3:00-3:15 Refreshments & Mingling – Lets Celebrate!
Snacks, sweets, and punch (with or without champagne)!
3:15-3:25 Welcome
A brief welcome from TWS CEO & TWS-WS President
3:35-3:50 Committee Reports
Hear what all of the great section committees are up to!
Don't forget to attend the committee meetings @ 5pm!
3:50-4:05 Chapter Reports
Hear updates from chapters throughout the section!
Don't forget to attend the chapter meetings @ 8pm!
4:05-4:10 Treasurer's Report
A recap of the financial standing of the section.
4:10-4:25 Member Comments
Open forum. Your chance to make yourself heard!
4:25-4:55 Awards Presentations
Conservation, service, mentoring awards & more!
4:55-5:00 Adjourn Meeting
Keynote Address 

Wednesday, February 9, 2023 — 10:00am to 11:30am
Livestreamed and Recorded
Chair: Jim Sedinger, TWS Rep to Council
The Keynote Address and Dialogue will be organized by our TWS Section Rep to Council, Dr Jim Sedinger and will discuss the free-roaming horse and burro issue.  We have a very knowledgeable group with a variety of opinions who will provide a very informative program for the Western Section focusing on the ecology/conservation/management aspects of the issue as well as the sociological aspects preventing effective solutions and potential solutions to the problem. 
Speakers will include:
Celeste Carlisle, Return to Freedom Wild Horse Conservation.

Celeste served a three-year term on BLM's Wild Horse and Burro Advisory Board and has been very active in research on the use of fertility control as a tool to address horse and burro numbers. 

She is one of the Principals in the development of The Path Forward, which advocates use of fertility control as an important tool, along with gathers, better use of long-term holding facilities and adoptions, to better manage horse numbers.
Dr. Nicki Frey, Associate Extension Professor at Utah State University. Associate Extension Professor at Utah State University.  Nicki Frey, in addition to her work with wildlife, has done some really important survey work gauging the public's knowledge and opinions about the horse and burro issue.
Dr. Jim Sedinger, Emeritus Faculty – University of Nevada, Reno.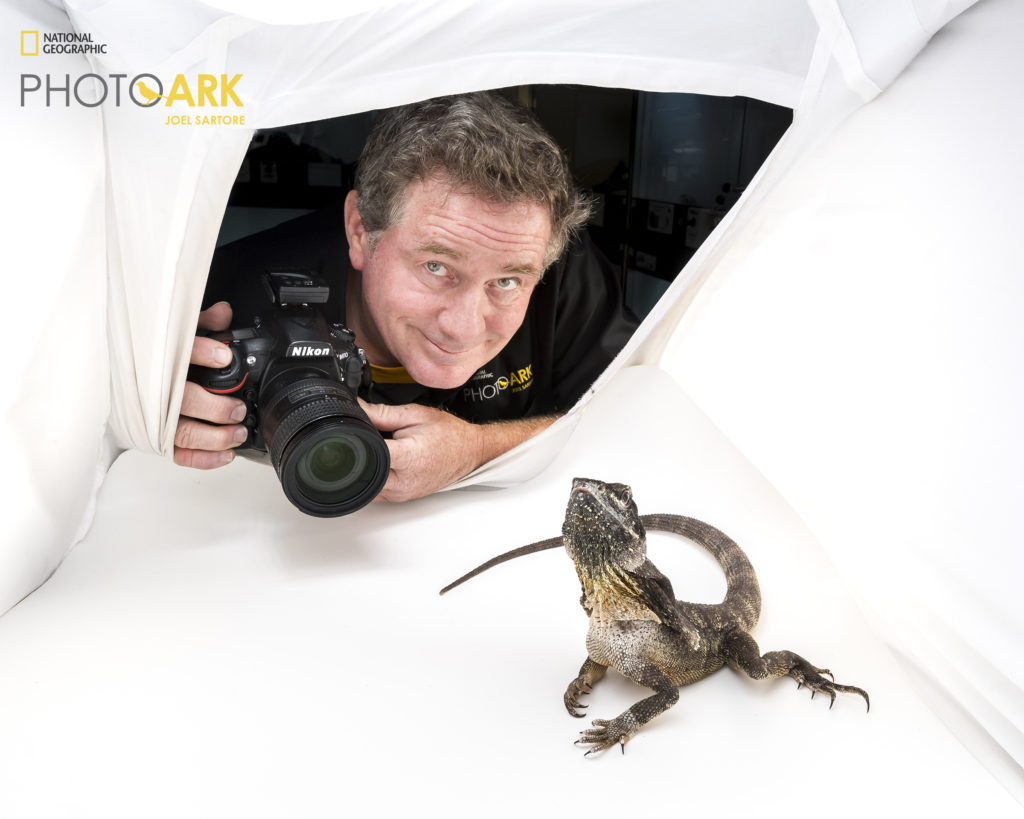 Friday, February 11, 2022 –11:00am to 12:30pm
Livestreamed and Recorded
Chair: Katie Smith, TWS-WS Presdent
Announcing the Western Section TWS 2023 Capstone Speaker:
Joel Sartore
In the field of environmental conservation, we all have a different role to play, and a different approach to addressing the myriad of challenges we face. For example, some excel in handling and tracking wildlife, some in crunching the numbers, and some in telling the story. Together we can do the work needed to study our imperiled species and to convince decision makers and the public to support conservation efforts. The responsibility for recovering the world's imperiled wildlife does not lie solely on the shoulders of wildlife biologists. In the age of social media, a simple post can have an even bigger impact in society than a groundbreaking journal article locked behind a paywall. Recognizing and working with effective partners outside of our field will be imperative in creating a sustainable future for humans and wildlife. 
The Western Section recognizes that communicating science and convincing the public to care about the species we care about is not always easy. This year we have invited a spectacular speaker who has Accepted this Challenge (quite successfully!), Joel Sartore. A TED speaker, National Geographic Explorer, and professional wildlife photographer.
Joel has spent decades documenting some of the rarest wildlife in the world and bringing the images and stories of these species to the public. And, with over 1.6 million followers on Instagram Joel's wildlife photos recieve tens of thousands of engagements per day, introducing potentially obscure species to folks who might never learn of their existence. In his Capstone presentation on Friday February 10 Joel will tell our Western Section about how he and other conservationists have Accepted the Challenge of wildlife conservation and science communication to be one of the most effective and well known wildlife photographers today.
Please join us in Riverside to participate in this fantastic event! 
---
ABOUT PHOTO ARK AND JOEL SARTORE
"I WANT PEOPLE TO CARE, TO FALL IN LOVE, AND TO TAKE ACTION."
Photo Ark is a multiyear effort to document every species living in zoos and wildlife sanctuaries, inspire action through education, and help protect wildlife by supporting on-the-ground conservation efforts.
National Geographic photographer Joel Sartore started the Photo Ark in his hometown of Lincoln, Nebraska, in 2006. Since then, he has visited more than 50 countries and photographed more than 13,000 species in his quest to create this photo archive of global biodiversity.
No matter its size, each animal is treated with the same amount of affection and respect. The results are portraits that are not just stunningly beautiful, but also intimate and moving.