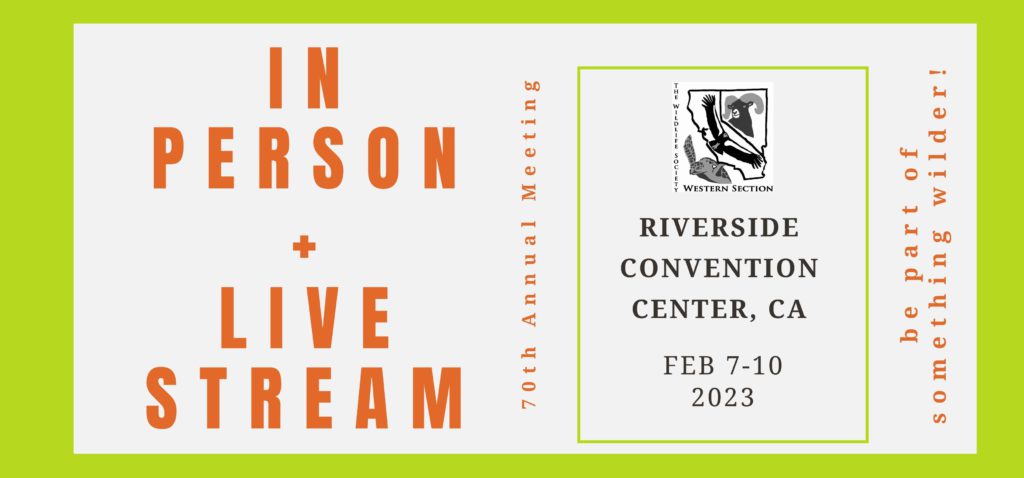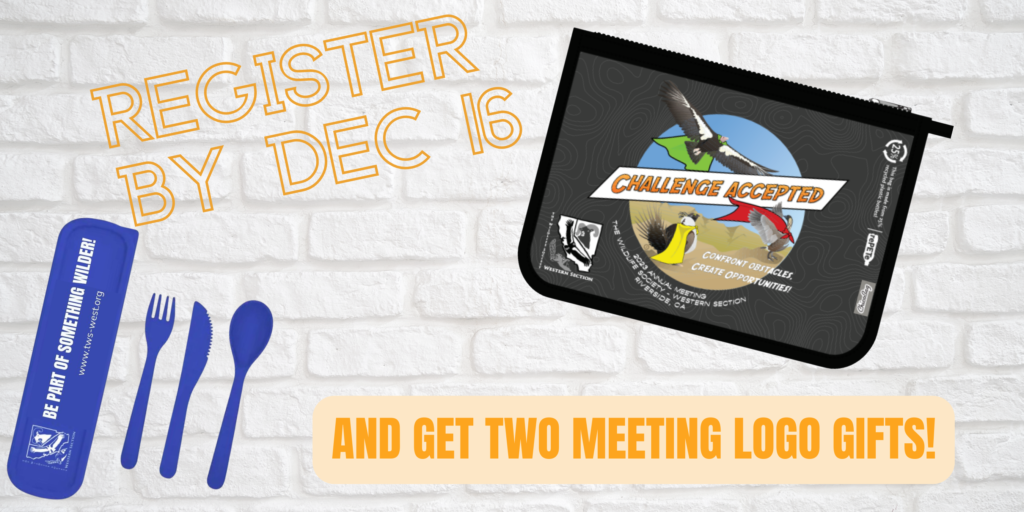 Our 2023 annual meeting will be presented in a hybrid format.
When you register, you can choose either in-person or virtual and you are free to switch between them anytime.
All scientific and general sessions will be both livestreamed AND available to view online (for 90 days after the meeting) through the Whova App.
We will mail the full registration packet and early reg gift to anyone who is registered for virtual attendance as of January 20th using the address provided on the online registration form. (An opt-out option will be available.) The mailed packets will be sent from Riverside at the beginning of the meeting once the packets have been compiled. In-Person attendees will pick up their registration packets in the Exhibit Hall at the meeting.
*Note: In-person and virtual attendance options are equally priced. Due to the significant technology costs, we are not able to discount the registration fees for virtual attendees. It is important to TWS-WS that we offer an inclusive meeting open to all, and this also creates flexibility for anyone who may need to change their plans.
COVID 19 – Your health and safety is our top priority!  
Local conditions and safety guidelines are constantly evolving. We are closely monitoring the current federal and local COVID-19 guidelines for in-person gatherings and travel restrictions,. As of today, there are no vaccination requirements or mask requirements in Riverside County, the site of the conference.  Even though masks are not required, they are recommended. 
Please do not attend the meeting in-person if you have recently tested positive for Covid-19 and please follow the CDC isolation procedures until you are no longer infectious. If you are unable to attend the annual meeting because you test positive for COVID-19, you can switch between virtual participation or in-person participation at any time. All participants, regardless of whether they are participating virtually or in-person, will have access to the recordings of the conference for up to 3-months after the conference. 

Meeting Theme — Challenge Accepted!  Confront Obstacles, Create Opportunities 
As professionals, we wear many hats and face constant change. In addition to the obvious challenges that confront wildlife research, conservation, and management efforts, we face obstacles in growing our reach and guiding the next generation of professionals: challenges such as competing interests, different backgrounds, and points of view. Throughout my career, I've been impressed that wildlife professionals are people of action who care deeply about their work. I challenge us to work together to directly address obstacles and actively create opportunities for wildlife professionals, collaborators, stakeholders, and those future wildlife biologists who are out there! For the 2023 Annual Meeting, I would like us each to throw down the figurative gauntlet, be honest with ourselves and each other, and take critical steps towards meeting challenges in wildlife science, conservation, and management head on. 
– Randi McCormick, Meeting Chair and TWS-WS President-Elect